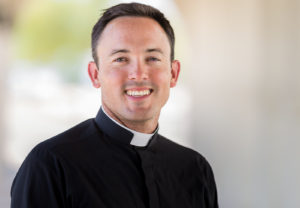 Rev. John R. Muir
St. Thomas Aquinas Catholic Church
Biography
Fr. Muir was born January 30, 1978 in Burlington, Vermont to Ron and Mary Muir, and baptized at St John Vianney Parish in Vermont on February 12, 1978. He has three sisters (Theresa, Katy, Mary Ellen), one brother (Kevin) and currently twenty nieces and nephews (fifteen boys; five girls).
Fr. Muir attended Arcadia High School in Phoenix, where he played baseball and soccer. During high school he was very active in the Life Teen Youth Group at St. Theresa Parish in Phoenix. After high school Fr. Muir attended Regis University in Denver, CO and graduated in 2000 with degrees in Communication Arts, and Spanish. During college he spent a semester abroad in Limerick, Ireland.
Fr. Muir heard the call to apply to seminary and enter priestly formation while on a Jubilee Year pilgrimage in 2000.  He studied Philosophy at St John Vianney seminary in Denver, from 2000-2003, followed by Theology at Mundelein Seminary in Chicago, from 2003-2007. He was ordained a deacon by Francis Cardinal George on October 28, 2006, and ordained a priest by Bishop Thomas Olmsted, Bishop of the Diocese of Phoenix, on June 2, 2007. Following ordination he completed a 2 year Licentiate degree in Theology at the Liturgical Institute in Chicago.
Fr. Muir's assignments include: Parochial Vicar St. Joan of Arc Parish, Phoenix, 2008-2010; Assistant Director, ASU Newman Center, 2010-2013; Administrator/Pastor St. Rose Philippine Duchesne, Anthem, AZ, 2013-2015; Assistant Director Office of Worship, Diocese of Phoenix, 2008-present; and Pastor St. Thomas Aquinas, Avondale, July 1, 2015 – present.
Fr. Muir enjoys spending time with family and brother priests. His hobbies are reading, sports, music, and teaching. His passion is finding new ways to invite people into the life of being a disciple of Jesus in the heart of the Catholic Church.
---
The Funeral Liturgy as Passover: Three-Dimensions of Consolation
The funeral rites become most consoling and meaningful when understood in the context of the Passover, a theme best read in the three-dimensions of the Lord Jesus, of God's people Israel, and of the individual deceased Christian.
In this presentation, Fr Muir will explore this fundamental but easily overlooked theme for those actively engaged in funeral ministry. He will consider practical ways to explain and offer these three-fold passover rites to the faithful, as well as to fallen-away Catholics, non-Catholics, and non-believers, in order to help us provide fruitful and consoling funeral services for those who mourn.