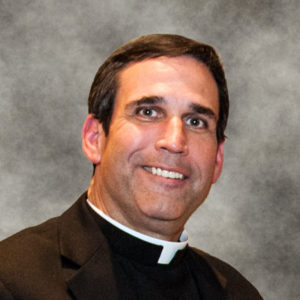 Fr. Larry Sullivan
Priest Director of Catholic Cemeteries
Biography
Fr. Larry Sullivan. Ordained a priest of the Archdiocese of Chicago in May of 1992 by Cardinal Joseph Bernardin.  Spent 16 years at St. Celestine Parish as an associate pastor and pastor at a time when the parish was celebrating well over 125 funerals a year.  His next assignment was at St. Christina with close to 150 funerals a year.
In 2013, Cardinal Francis George appointed me to be the Associate Priest Director of Catholic Cemeteries of Chicago while retaining duties as pastor. In 2017, Cardinal Blase Cupich appointed me as the  Priest Director of Catholic Cemeteries while remaining pastor of Christ the King Parish.
Catholic Cemeteries of Chicago performs almost 16,000 burials a year and is always eager to help Catholic Cemetery systems across the country.
---
The Funeral Liturgy as seen through the Sacrament of Baptism
Our lifelong journey of faith begins with the sacrament of Baptism. Our life's journey ends with the celebration of the Paschal Mystery at our funeral Mass. While our lived experiences may happen in the in-between years, those experiences are hopefully guided by the Gift of the Spirit and baptism, and finally celebrated in the Funeral Liturgy. Our presentation will connect the symbols of Baptism with the symbols found in the Order of Christian Funerals, and thus uniting, for many of us, our earthly beginning and our earthly end.