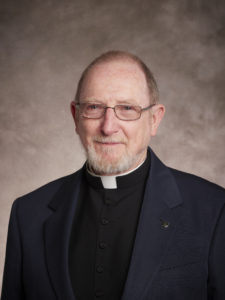 Rev. H. Richard Rutherford, C.S.C.
University of Portland
Biography
Holy Cross religious and professor emeritus of liturgical theology, with degrees from Katholieke Universiteit Nijmegen, Netherlands, Gregorian University, Rome, and the University of Notre Dame, Fr. Rutherford taught as member of the theology faculty of the University of Portland from 1976 until his retirement in 2012. Having studied the Christian funeral for some 50 years, his book The Death of a Christian: The Order of Christian Funerals (1980, 2nd 1990) and occasional monographs, including Honoring the Dead: Catholics and Cremation (revised 2001), have served seminaries and colleges as textbooks and commentaries on the Catholic funeral. His publications appear in Worship, Modern Liturgy, Liturgical Ministry, Pastoral Music and Rite, and include a three-video series Understanding the Order of Christian Funerals for Liturgical Press. Fr. Rutherford served as resource to ICEL for the 1989 revision of the Order of Christian Funerals, and his recent contribution to A Commentary of the General Instruction of the Roman Missal (Liturgical Press, 2007) addresses Masses for the Dead. Recent works include an entry on "death and afterlife: Christian" in the Oxford Dictionary of Late Antiquity (2018) as well as the Foreword to Baptismal Ecclesiology and the Order of Christian Funerals by Stephen S. Wilbricht, C.S.C. (currently in press with Liturgical Training Publications, Chicago).
Fr. Richard remains active as lecturer and consultant on current issues surrounding the Catholic funeral and enjoys serving as "cruise padre" on small ship voyages in the Mediterranean, Scandinavia, and the Far East. In 2012 he facilitated the creation of and since 2014 has directed a University of Portland Undergraduate Research Expedition in Spain, collaborating with fellow Portland faculty and with archaeologists from the U. of Barcelona in an archaeological excavation of an ancient cemetery in Roman Pollentia, Mallorca's oldest Roman city.
---
What makes a Funeral and a Cemetery today Catholic?
Beginning with a brief look at the historical context of the present Order of Christian Funerals(OCF), we will review our Catholic sacramental tradition as rationale for why the Church – expressing her faith liturgically in the OCF – prefers that the body of the deceased be present for the full celebration of the Catholic Funeral. That is: Vigil & Related Rites, Funeral Liturgy with the Funeral Mass as pinnacle embodiment of the Pascal Mystery in the life of the deceased, and Committal Rite and final disposition – preferably at a Catholic Cemetery, where the ongoing proclamation of Catholic faith and hope in the resurrection of the dead is manifest day in and day out as well as on special liturgical and secular holidays through the year. In this context today, celebrating the Catholic funeral when cremation is chosen by our faithful will be addressed in so far as the choice impacts liturgy of the OCF. Attention to the prayer of biblical lament will run throughout the talk and remain as a hoped-for "takeaway" to be shared across the collaborative ministry of Catholic funeral service practitioners and Catholic Cemeterians.