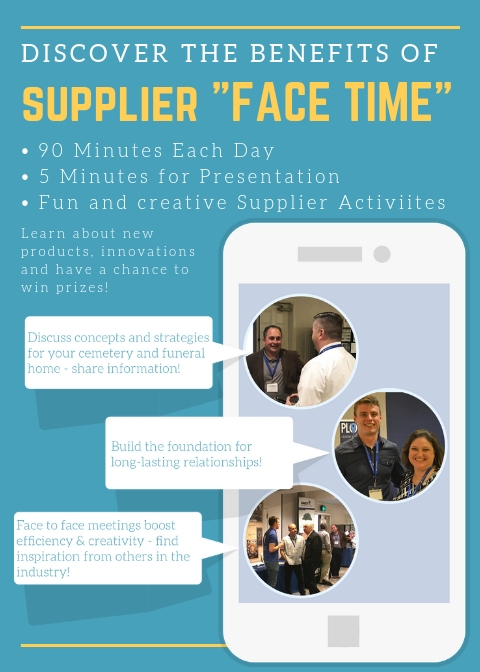 In our modern world, digital technology has changed the way we network and communicate. Colleagues can collaborate with each other despite geographical location and new products/innovations can reach customers with lightning speed. Despite clear advantages of digital communication, it is a mistake to assume that face-to-face networking and communication are losing value.
This is why attending the CCFW Annual Conference is beneficial, not only to collaborate with other cemeterians and funeral directors, but to learn and network with our suppliers. The power of in-person communication is undeniable when shaping business outcomes.
New this year, we have put together a fun and educational networking event where suppliers have guaranteed Face Time with attendees for a chance to educate on their products and gives attendees a chance to ask questions that will help build their business.
Here's How it Works:
After you register, and closer to the event, each attendee and supplier will receive a schedule of appointments. Suppliers are guaranteed Face Time with every attendee!

When you check in at the conference, you will receive your Face Time schedule with your name badge. Attendees will need to have them signed off by all participating suppliers for a chance to win a prize!

Both conference days have a 90 minute segment for the Supplier Face Time. Each day, attendees will meet with 15-16 suppliers who will have a 5-minute presentation on their products, with 1 minute to rotate in between.

Have fun with this! Suppliers are encouraged to be creative with their presentations. They can hold competitions, play games or do anything that will not distract from other meetings go on around. Our goal is that everyone leaves learning something new!