Catholic Cemeteries and Funeral Services of the West

By: Nicole Lecheler, Outreach Manager, Diocese of San Jose & Past President of Catholic Cemeteries and Funeral Services of the West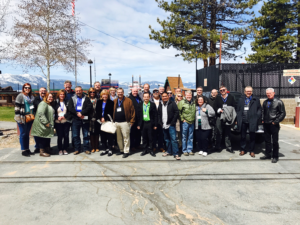 Catholic Cemeteries of the West held their 2017 annual conference in April in the beautiful South Lake Tahoe, California.  Cemetery and Supplier members enjoyed a week full of networking, learning and sharing with one another; fostering honest and productive conversations and networking, opportunities for spiritual growth to support our ministries, support of your fellow members and of course, fun and relaxation while learning new ideas. Attendees started the week off with breath taking views of Lake Tahoe and the Sierras aboard a networking lunch cruise.
Tim Corbett, Director of Cemeteries, Archdiocese of Portland, and Joseph Lange, Executive Director of Cemeteries and Funeral Homes, Archdiocese of Phoenix shared their experience, insight and best practices in incorporating and embracing funeral homes into Catholic Cemetery operations.
Gabe Navarrete from UTG Security shared his experience and knowledge in safety planning and procedures in our Cemeteries in a session about securing our assets and protecting our visitors through safety and security planning.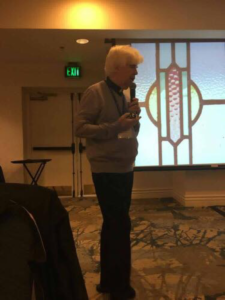 Fr. Christopher Bennett shared his spiritual wisdom with us.  Exploring the significance of our ministry both at the Cemeteries and with the Funeral Homes, and fostering a relationship to provide our families the best ministry possible. Fr. Chris also encouraged us all to explore and stay true to our mission, both personal and organizational.
Poul Lemasters shared his advice with us on navigating the trickiness of Cemetery and Funeral Home relationships from a legal and practical point of view.  Poul and Tim followed up with a panel session that garnished incredible conversations and sharing.
The What's New and What's Up session provided an opportunity for members to discuss projects and happenings in their cemeteries as well as an opportunity to ask for support and advice on a variety of topics.  The main topic of conversation focused on modern interment practices and how to reach out to Catholic families choosing cremation and encouraging them to choose Catholic burial and Catholic Cemeteries.  This session is always fruitful in ideas, advice, creativity and support amongst the membership.
Capping off the week, the conference closed with Mass presided by Auxiliary Bishop Myron Cotta, Diocese of Sacramento and closing banquet with entertainment by the Killer Dueling Pianos.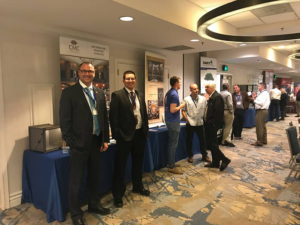 During the Cemetery Membership meeting, Members voted two new members to the Board of Directors (Terry Whitely, Archdiocese of Vancouver as Secretary/Treasurer, and Jimmy Pinocchio, Cemetery 360 as Supplier Rep).   Members also voted and passed an important Bylaw and organizational change, changing the name of Catholic Cemeteries of the West to Catholic Cemeteries and Funeral Services of the West.  The Board of Directors and the Administrator will be working with an attorney and IRS to officially change the name.
By expanding the name to include Funeral Services CCFW can offer increased credibility in the Cemetery and Funeral Industries, as well as credibility in the ministry to serving Catholic families in all aspects of funeral and committal services.  Many members have a vested interest in funeral services from working with local funeral homes to ensure Catholic families are served in the mission of Catholic Tradition, to partnering with local funeral homes and funeral directors, and building or acquiring a funeral home or crematory under the operation of their Diocese or Catholic Cemetery.  Also, by expanding the name to include funeral services the organization can offer well rounded support to members who provide funeral services or could potentially provide funeral services in the future and can provide support and resources to members who may encounter issues with other local funeral homes when it comes to Catholic funeral services, rites and committal.  This also allows the members to establish relationships and network with potential funeral service Supplier Members and will help Funeral Service Supplier members to better understand the ministry of Catholic funeral service providers and cemeteries.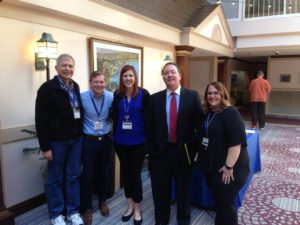 Other organizational changes include a new formatting to future conferences to maintain a sustainable, fiscally responsible and effective platform to educating, networking and engaging the CCFW membership – offering a shortened conference week and rotating between 2 venues over 4 years.  The Board of Directors (Joseph Lange, Archdiocese of Phoenix – President, Monica Williams, Archdiocese of San Francisco – Vice-President, Terry Whitely, Archdiocese of Vancouver – Secretary/Treasurer, Nicole Lecheler, Diocese of San Jose – Past President, Tim Corbett, Archdiocese of Portland – Past Past President, and Jimmy Pinnochio, Cemetery 360 – Supplier Rep) are excited to invite all Catholic Cemetery and Catholic Funeral Service providers to our 2018 annual conference at the McCormick in Scottsdale, AZ, January 22-26, 2018.
For more pictures, visit and like our Facebook Page!